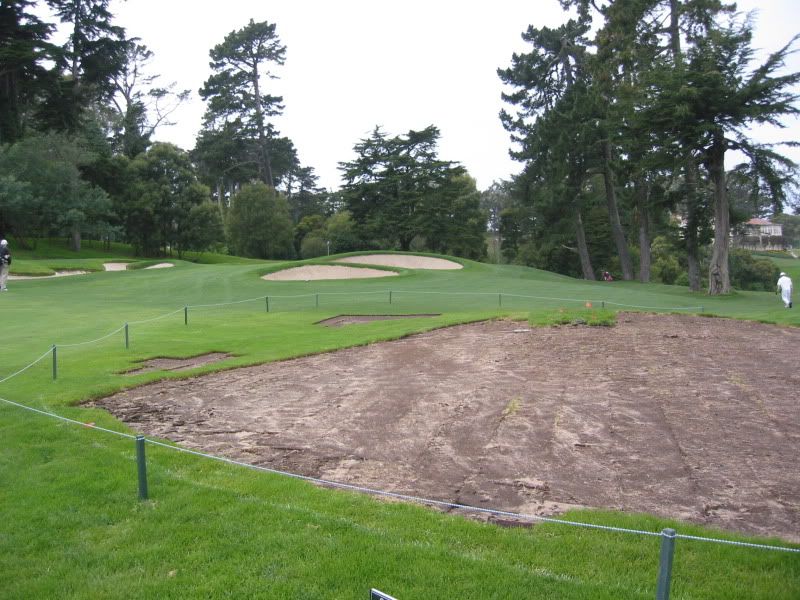 new bunker going in - courtesy of Mathew Mollina and GCA
I truly believe the only good decision for a club is the one that is in the best interest of the membership.
I think you can make alterations that create a better golf course for a visiting event, but since the members will be the ones playing the course the remainder of the time, it must make the course better for all the members every day.
Ne back tees are almost always just fine since they don't impact the architecture, but officials have begun to be far more aggressive. Over the last dozen years I have watched a series of clubs do horrible things to keep their course at a "perceived" championship calibre at all times. Each time they have damaged a great piece of architecture with their "championship" approach. The narrow fairways at places like Oakland Hills and Merion have removed the options off the tee. The green rebuilding at many championship courses have dumbed down some of golf's greatest greens to allow for one week of ridiculous green speeds. Worst is the modernization of places like Royal Montreal where the course is now too difficult for the average member.
We are smarter than this.
As reported by Geoff Shackelford The Olympic Club, host of this year's US Open will add a bunker weeks before the event.
"The rumors are true, the

USGA

has asked for and received the installation of a new greenside bunker on

Olympic Club's 17th hole

just 56 days before the start of

U.S. Open

practice rounds on June 11th."
I'm not questioning whether this will be a good decision, I'm questioning whether this constant tinkering by the USGA and R&A on course of great architectural heritage is good for the game … and more importantly the members of the clubs. Frankly I'm sick of the heavy handed approach that has evolved. The results like the 16

th

at Turnberry have irrevocably damaged holes of high merit.
It's time for clubs to say no and only do things that are in the best interest of all their members.