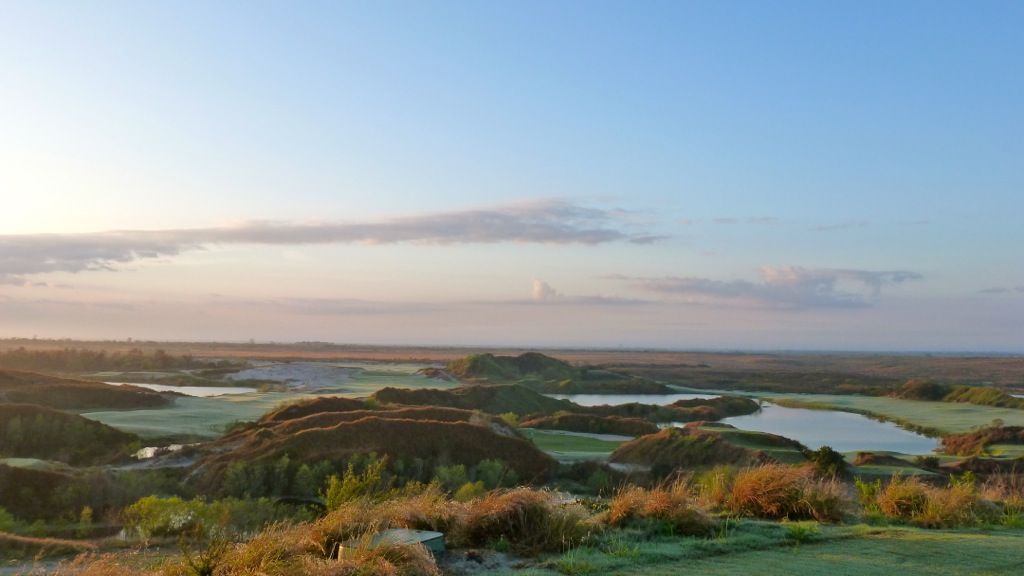 The Opener on Red - Courtesy Golf Club Atlas and Mark Saltzman
In an ideal world I've always felt the opening of a course should welcome the player to the day. You should feel you have enough room to play and don't fear losing a ball.
My preference is a mid-length par four, but a longer one is fine too. I try to avoid using a short four since players will need to wait for the hole to clear. I've always felt they are better used later when you are warmed up and capable of considering the decision and challenge if you miss. But the opener at Detroit Golf Club proves they can be a fun an exciting start too.
I don't like a very long four unless it's fairly open since it's an intimidating start. The opener at Muirfiled in Scotland works because you can run the ball in and don't worry about bunkering, but for many these holes are unreachable with even a hint of wind.
I'm personally don't like a par three because I prefer them to come later in the round where I can either showcase a great setting or push the player a little more with the architecture. I've played a one shot opening and they need to be fairly simple, which to me is a waste. I consider threes to be the chance to create highlights on the course.
The OPener on Blue - Courtesy Golf Club Atlas and Bryan Izatt
I don't like a par five because it slows play as players wait for the green to clear. I also consider this hole another decision hole that is better placed later in the round. I have one at Laval because that is what the land dictated not because that was what I wanted. Very long fives like Scarboro solve that problem, but it feels like a slog to open unless the hole is architecturally interesting.
The opener on the Red Course at Streamsong bothered me. There was water in front of the first tee, nasty long grass on the left and right of the first fairway. The topper was it was routed into the prevailing wind. Game On! Too much, too soon. I think if there were more exposed sandy areas on the 1

st

hole of the Red, it would have allowed players to find their tee shots and get started on the day. It's just my opinion, but I would be too quick to go play the Red again, whereas I look forward to playing the Blue.
In contrast the Blue at Streamsong had a wide open expanse where it was nearly impossible to lose a ball and being shorter allowed for a myriad of clubs from the first tee. Thanks. Now I'm ready for more difficult holes because I've had a chance to make a swing without intense pressure. That's how I prefer my opening holes to be.