from "

Conversations with the Unknown Architect - Part 2"

By Tony Dear



please note that Tony's entire piece can be found here:
click here
Below is my answers to his questions: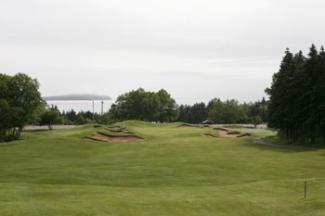 The Remodeled 15th Hole at Highland Links
How did you get your start?

I began with a small club named Carrying Place (in Ontario, Canada), putting together a master plan and building greens while still in university. A short while after I graduated, I went to work for Doug Carrick. I began in the spring of 1989 and stayed till 2005. I would say Doug was my initial mentor, but the lessons that shaped my design philosophy came from other architects who I met and befriended in the late 1990s.

Give us two pieces of great advice you've benefited from.

Clyde Johnston said, "Keep your business small, the overhead low, work out of your own house and you will survive just about any type of downturn." It was great advice for me when I knew I was going out on my own. Each time I had too much work I turned down projects rather than grow. It made 2008/2009 manageable.

Bruce Hepner of Renaissance Golf (Tom Doak's firm) told me that grassing lines identify how a course will play. Bruce is one of my closest friends in the business and each time we get together we talk about grassing ideas and how the ball reacts on the ground because we believe that is the key to unlocking great architecture. Grassing lines remain the biggest focus of what I do.

If you were to show someone who'd never heard of you your best work, where would you take them?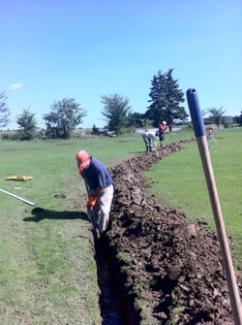 Ian Andrew Hard at Work
The Blue Course at Laval-sur-le-Lac in Quebec (Andrew's first project with Mike Weir). I wanted to give players choices, and put the ground in play. The extensive use of short grass around the greens and the massive variety in hole types result in what, I believe, is the best expression of what makes a course fun to play.

What has been your favorite project to date?

The restoration of Highlands Links (an original Stanley Thompson design in Nova Scotia), a project that has become very personal. I think the work is essential for the good of the game since other architects can now come out and see Highlands Links in its original form once again. Each time I go to the course I put on my gloves and work boots and run the crew. Everything is done by hand and built by the people of the community. The whole project is all about the big picture, which is the economic survival of a small community.

How did you survive the economic downturn?

I have a small, very specialized niche business that is based out of my home. I'm very good at putting money aside during the good times to cover the quiet periods. My restoration work has remained solid throughout the last decade despite the ups and downs in the economy. I'm getting more and more calls from further away and that's a good sign that my profile continues to rise. I also get projects through the recommendation of my peers, so I must be doing something right.

How do you see the industry, and your place in it, evolving?

I don't see any change for me. I plan to stay in North America and pursue the same type of projects that I currently do now. It would be nice to find a little more new-course work, but I really enjoy the restoration and would be happy doing that for the next 20 years. I think the industry could be in trouble down the road. While I see continual slow growth for North America for many years to come, what I see in China frightens me. This looks just like another housing bubble that if it were to burst would end new-course construction.