18th green, 15th tee, 14th green, 12th tee
Last week I played Oakmont. This is one of the last great courses I had not seen yet.
Oakmont is one of that few select courses that receives consideration when the discussion comes up on what is "the" very best course in the world. After an hour of deliberation over that question, I can say it's certainly worthy of being considered, but for me personally it's not in that elite company of three courses. What I can say is it sits comfortably with the next set of five courses which includes The National Golf Links, Cypress Point, Royal Melbourne Royal County Down and The Old Course.
One aspect that came up in deliberation over how good was Oakmont was a discussion about the elements of my Top 3. According to my travelling companion, one common link between them was a mean streak.
The three that I feel are worthy of being selected as the best course in the world are Shinnecock Hills, Pine Valley and Merion. While I agree that Shinnecock Hills is tough as nails, there is also abundant room, you can find and play a ball out of the tall fescue and there are lots of ground options. While Pine Valley penalizes the miss like no other, there is tremendous width off the tee and lots of easier alternatives to play around some of the trouble if you want to try make a lot of bogies. I would argue that Merion is only "mean" when set up like it was for the Open. When I first played the course over a decade ago, it was actually fun with a lot more width and low rough. It is the version that placed it in my personal Top 10 and there is this is what they plan to re-establish after the Open. So while I can understand the argument about difficulty, I don't necessarily agree.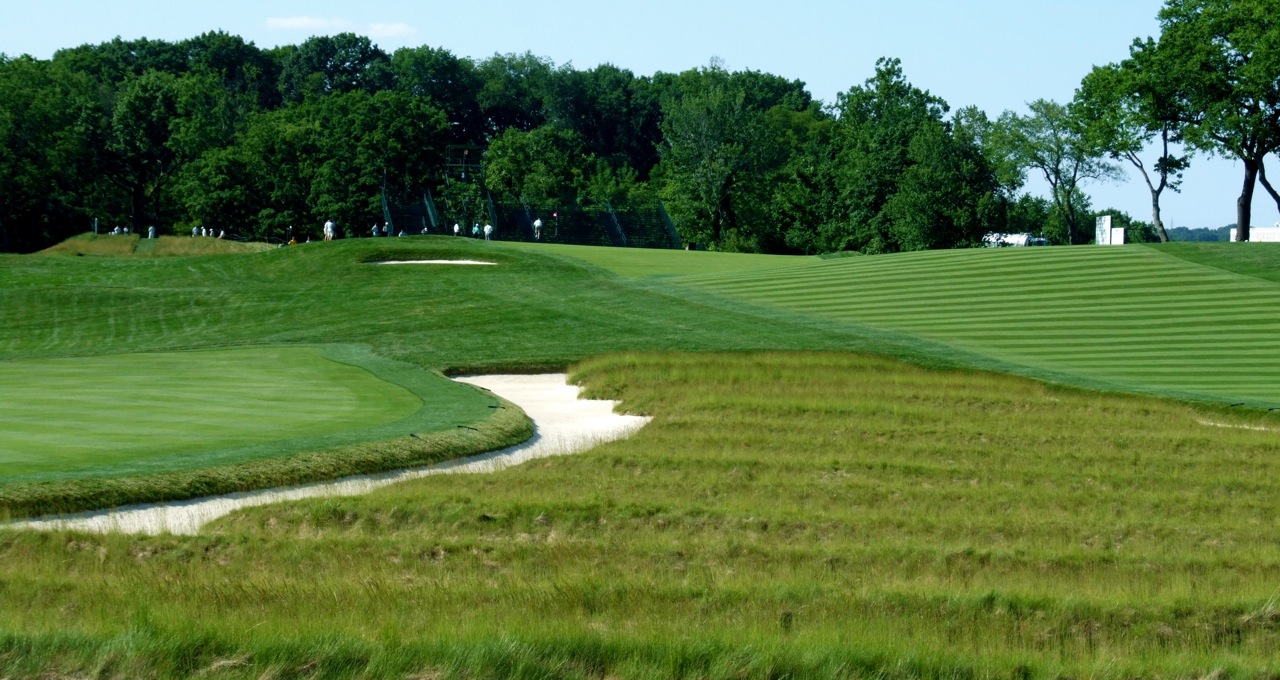 Famous Church Pews on 3rd and 4th holes
This brings me back to Oakmont.
I found the course wider than I expected, the rough shorter than I anticipated, but the greens are still very tough to negotiate even at a lesser speed. While very exacting, I found Oakmont … possible. And that is why I liked it a lot.
Interestingly, I found a close miss to be the worst result since it always found the heart of the deep and extensive bunkering. Often a bigger miss was OK since it avoided the bunkering. The rough was short enough to make recovery pretty simple and the long grass was well set back from play to not become a problem. Only the ditches confound play with their long grasses and close proximity to play. I drove it very well, which meant I saw lots of fairway bunkers on the slight pull or push.
So coming back to the original question, what came up short?
Par 3 13th - with 12th on the left of the picture
For me it was the threes. The 13th is a gem with a great green and awesome setting. The 16th was almost as good adding length and a running option. My issue was with the front nine threes. I loved the setting of the 6th, but don't see "possible" in that green with such a massive cross-fall and no room for anything but a cut into the slope hit sky high. The 8th is just a big monstrous par three over flat land. Both are fine holes but compare this to Pine Valleys 3rd (cool redan green), 5th (ultimate long three / insurmountable hole), 10th (Devil's Asshole and very short three) and the 14th (the island green site on a drop shot three) and they fall slightly short.
Oakmont may have the best combination of short fours and par four and halves in the world. The constant change of pace is so impressive and offers a remarkable lesson in pacing a round of golf to vary the rhythm of the game. I felt equal measures of opportunity followed by lessons in perseverance. Every single one is an outstanding architectural lesson with the downhill fours being particularly noteworthy. Oakmont may have the best set of fours in the game. That is an argument that I'm willing to make!
I also thought the fives were very strong. The combination of interesting architectural elements and risk made for three very interesting holes to play. They do a great job of eating up some areas of less undulation while delivering really excellent golf.
I went to Oakmont with high expectations and even higher anxiety. The architecture exceeded my expectations, there was far more than "just" a tough golf course sitting on that property. More importantly there was an awesome collection of interesting holes that met the landscape at wildly varied angles providing a myriad of stances and complications to overcome. While the bunkering and greens receive the credit for difficulty, it is the land and routing choices that actually deliver the blow.
I respect the course for the tough test that it is. I admire the course far more for the brilliant use of land. It is simply an outstanding piece of architecture.