Winged Foot - and excellent use of a tough property
Go onto any architects web site and you'll get to read about how they use or utilize the natural contours of the property. Every architect seems to have their own version of this "philosophy" but very few accomplish that end. You see I believe very few architects actually allow "the land" to create holes. I think the vast majority of architects find the holes "they want" in the land and make that work in their routing.
Does this sound like I'm splitting hairs to you? My belief is the gulf between the two approaches is enormous and so are the results.
I'm going to break down the architects into three approaches: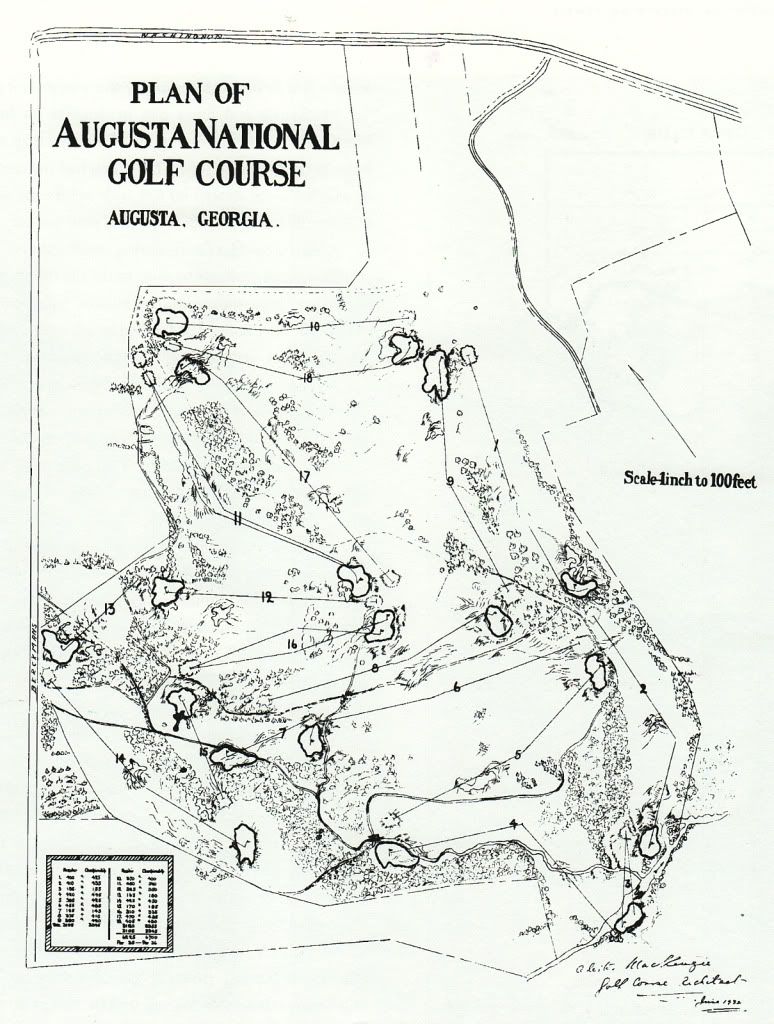 Augusta's routing - makes excellent use of this undulating property
The Spectacular
There is nothing wrong with identifying the most exciting holes on the property and trying to find a way to incorporate them into a design. But when the architect concedes a series of awkward holes to accommodate that end, they are more interested in the photo than they are in the playing experience. These architects are drawn most too dramatic tee shots and all world holes than a complete composition. They also tend to over-shape, over-bunker and essentially overdo everything they touch. It's art, or at least their version of it, rather than sport.
These architects wish they could have 18 holes running up or down a valley. In fact many of them will find as many valleys as they can before moving enough dirt to make the rest feel like they play through valleys. They tend to look for natural fours and natural fives over par threes. The work is pretty solid, but generally too safe to ever achieve greatness. They like visible, well defined and easily understood holes.
The 13th at Highlands Links - a masterpiece of unusual choices
The Eccentric
They are drawn to natural green sites because they feel holes must have a destination. They look for features like undulating ground, opposite cants or eccentric knolls to incorporate into their holes for interesting shots or opportunities to work the ball. They look for features that will affect the ball on the ground because that makes for the best playing experiences. They understand that a razorback landing, play over a hill or some other eccentric shot will often unlock a better set of holes through its incorporation. And besides a little mystery in the round is sporting right? They use a little less bunkering in defence and a lot more short grass in their approach to the game. The best of the group understand the holes that embrace and incorporate the most eccentric piece of land are where the great holes are found if you're daring enough to try.
Minimalism has been ill defined as an aesthetic. The top two categories describe the Modern Approach to Golf Design through routing. The bottom one describes the Minimalist's approach to routing. It also describes the best of The Golden Age. It's easy to see why so few great courses were built by the Modern School of Design.