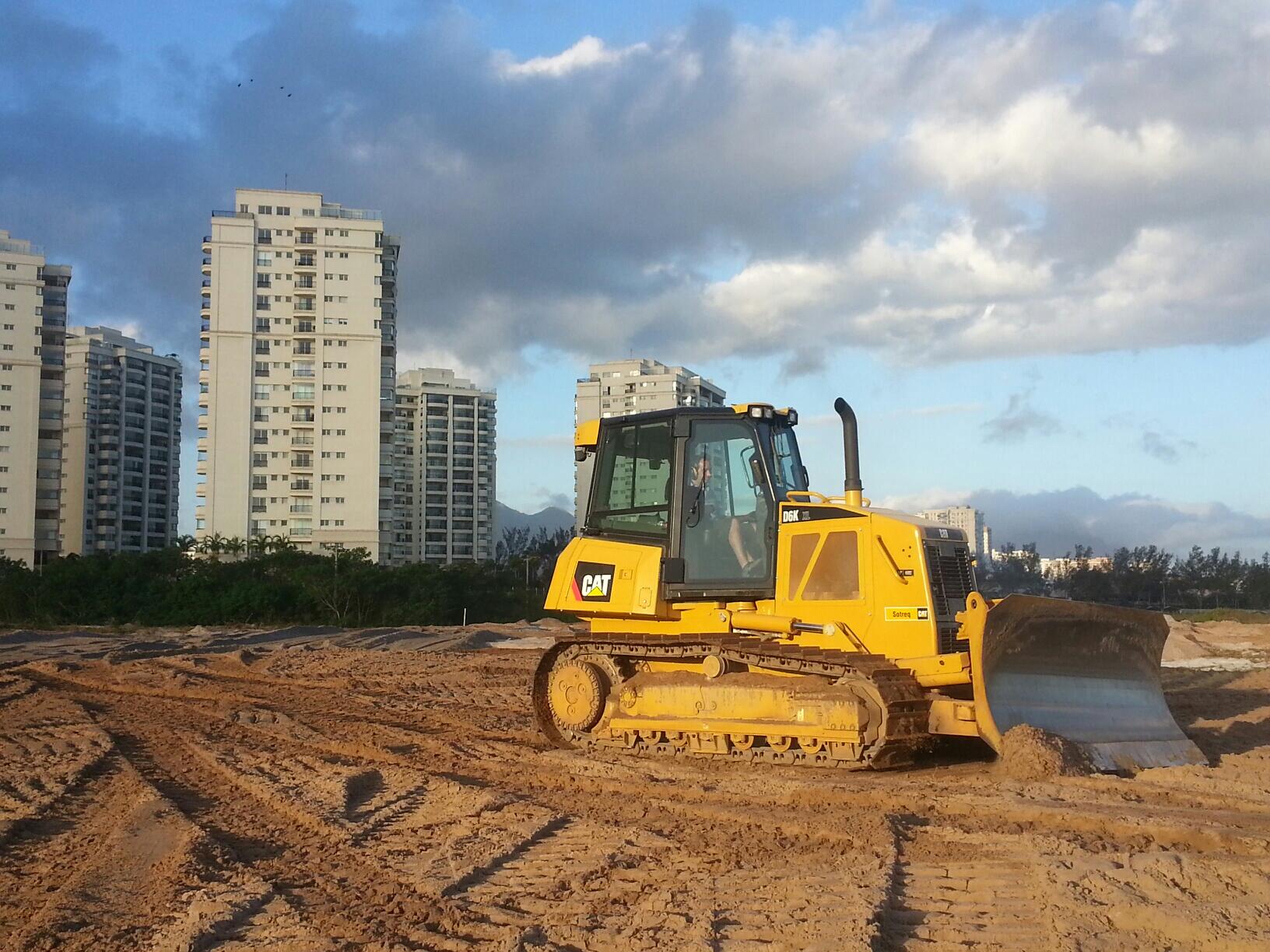 18th Green at Olympic Course - image courtesy of Kyle Franz
Biggest Story – Part One – The Olympic Course Delays
March 20th - "Work has finally begun on the 2016 Olympic golf course after delays caused by a legal dispute over ownership of the site. The organizing committee for the Rio de Janeiro Games said on Wednesday that clearing work had begun to remove "non-native vegetation" after a permit was issued by the city. Construction is set to begin in April and Carlos Nuzman, head of the organizing committee, said the course would be ready for a test event in 2015."
The Grading Permit came April 23rd and they were "finally" off and working.
image courtesy golf club atlas
Worst Renovations – Part One - The Old Course
It's not the quality of work, but the arrogance of making changes that makes this the most misguided renovation in golf. Peter Dawson continues to roll along with phase two of the renovations despite the questions and opposition that came up after the first phase. This project is egregious enough that they are the my Villains of Golf Architecture for the second straight year.
Olympic Course – Part Two – First Review (Geoff Shackelford)
"The site exceeded expectations in terms of potential for a "great" golf course (very much so) and its setting in Rio (you know you are in Rio but not excessively so). Gil's also done a super job routing what will be a fun, walker friendly course long after the Olympics. It's the type of site a lot of architects would call boring or flattish, but it's far from that.

By now most have seen the images with sandy scrub, nice plant material and other attributes that give off a "sandbelt" essence. About half the property is set on dunesy land with the initial clearing exposing some tremendously good bumps, hillocks and swales. The "lower" section is on wetlands created after the original dunes were stripped off the property decades ago."
Best Golf Architecture Quote – Brad Klein (GCA Interview)
"Golf course restoration takes that heritage and presents it with a clarity and quality that it never could have enjoyed in its original form (given agronomy and construction techniques back then) and presents it with flair and confidence under modern terms of management. The value there is the uniqueness, the fun and challenge it provides golfers, and the fact that it is readily distinguishable from so many of its more modern competitor facilities in the region. So I think that a good argument for golf course restoration is that it makes business sense in an increasingly competitive golf market."
Future Architects - Don't Bother Going to School
For years I've suggested a combination of practical experience and a degree in Landscape Architecture as a pretty solid combination which would provide you with an opportunity to join a design firm. Well guess what, design firms are a thing of the past and are likely never to return. This is the era of independent contractors where the vast majority of future architects are building or renovating the courses. To succeed in the current climate, you must be able to build what you design.
So, don't bother with school, it costs too much and won't get you a job. Learn to run a dozer or mini-excavator and build great golf before you design great golf.
Since We Have No Work - Architect's Top 100?
The idea was very interesting, but the results disappointed me.

No list works unless you can vote for everything to show your admiration and disappointment with the various courses that you have seen. You need to be well travelled and I always thought a rater needed a minimum exposure to understand clearly how to compare the best of each region.
Picking you ten favorite's produces a list where the first twenty will be rock solid, but the bottom fifty will unfairly benefit for not being voted against. That's my criticism of this list, despite being a very intriguing idea.
Link to List:
http://www.golfcoursearchitecture.net/Article/Architects-Choice-Top-100-Golf-Courses-in-the-World/2823/Default.aspx#.UpU6HPWA3oo
image courtesy of Brent Long
Canadian Architecture – Part One

-
St George's
Changes Architects
"My first thought when I heard about the project was that I am generally not taking on new consulting clients anymore, because they chew up too much of my schedule, but that I had to make an exception for any course that was listed among my favourites in the Confidential Guide. That's how I got tied up with Royal Melbourne, too," Doak said. "My second thought was that I knew Ian Andrew had done a lot of work at St George's a few years ago so I called him and asked if he wanted to collaborate." - Tom Doak
image courtesy of Joan Doast
Worst Renovations – Part Two – Pebble Beach
Two years ago I went out to Pebble beach to meet with Mike and walked Pebble while he played a practice round. The renovation work taking place on the bunkers is the worst work that I've ever seen on a Top 100 course. The "modernization" by Arnold Palmer has taken away all the interesting edges and features and made them look like any machine made Florida bunkers. The worst example is the breaking up of the massive fairway bunker on the 6th and turning into a series of smaller dull bunkers is undermining the great scale of the original bunkering. Nothing is more painful than the slow dumbing down of great bunkering.
Canadian Architecture – Part Two - Hamilton RFP
Not
one Canadian architect was invited to either put in a proposal or team up with another foreign architect. They invited four so-called Colt experts, but two of the best alternatives were not invited into the process and two are clueless when it comes to his work. What further complicates things is the clubs desire to use an existing Master Plan which appears to have driven a few firms out of the process.
Olympic Course – Part Three – I'm Off to Volunteer
"Rio is still going slow but steady ....Would love to have you come down, my thinking is that January or February would be better timing to help with finish work. If you want to come down in November that would be fine but we would still be pushing dirt at that time. -
Gil Hanse
I'm off to help for a week and perhaps longer in January or February.
Highlands Links 6th hole drainage going in
Canadian Architecture – Part Three - Highlands Links
Parks Canada has left Highlands Links in limbo. There is no outside group take over the course. The crew has become smaller with key members taking other jobs and Graham Hudson continues to keep things moving forward, but each year his job becomes harder and harder to do.
Architect of the Year – Ron Whitten's Choice
"

Doak is my choice for mythical Golf Architect of the Year, based upon the astonishing variety of three new courses he introduced in 2013:
the Blue Course at Florida's Streamsong Resort
(the must-play destination of the year), the Red Course at Dismal River in Nebraska (vastly different from the club's older Nicklaus-designed White Course) and the totally rebuilt
No. 1 Course at Medinah Country Club
near Chicago."

I think this was the year that an "outlier" should have been selected for what they were trying to do outside the mainstream. Out of the box, perhaps Richard Mandell's Affordable Golf Symposium comes to mind. But I really believe that it should have been one of the architects working in Asia, but here's the rub, none of us know their work because nobody is going over there to find the unknown great project.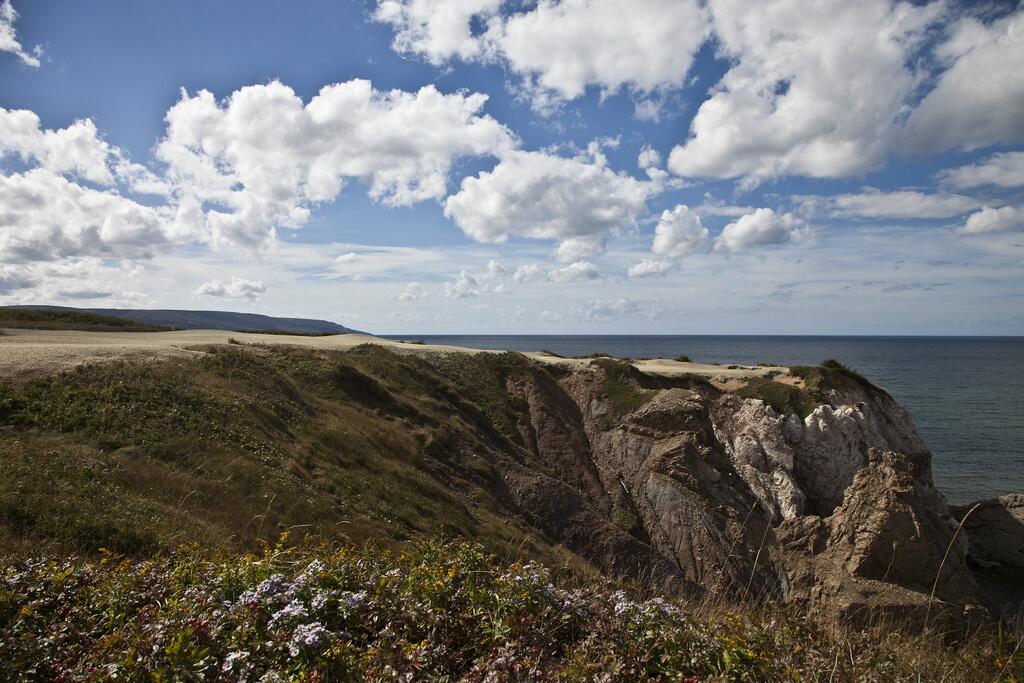 Cabot Cliffs
image courtesy of Keith Rheab
Canadian Architecture – Part Four – Cabot Cliffs
This is definitely the most anticipate course in North America. The site has everything from ocean holes set along the cliffs to holes running through large dunes. Not only is this a spectacular site, but having the team of Coore and Crenshaw means the expectations are at a minimum Top 100 course in the World, but in some circles a landmark North American course.
I'll be surprised if this doesn't become the best course in Canada.