Spieth on the way to the drop - courtesy of ESPN
The following is Part One of Five on everything golf in 2016. It is a summary of what catches my interest, shapes my opinion, or impacts what I do on a year to year basis.
Spieth's Collapse at the 12th
The 12th at Augusta National is the single best tournament par three in golf. And this year it played a stunning role at The Masters. I had all settled in to watch an easy walk to victory by Jordan Spieth … and then the first ball went in the water at the 12th. OK, fine, no problem … and then the second ball went in the water. Huh ... Who won, Danny Willet with a fine 67, but just like Faldo, he will take a backseat to Norman and Spieth because we seem to remember Vandervelde long after we forgot Lowrie.
Martin Slumbers, Chief Executive of The R&A said this, "The R&A has considered today's decision with respect to The Open Championship. The Open is one of the world's great sporting events and going forward we will not stage the Championship at a venue that does not admit women as members." I love the game, The Open and Muirfield.

I respect any club's right to maintain their traditions. But I'm with the R&A, with public money and public corporations involved, the Open must reflect society's values. Hope the club changes its mind, but won't hold it against them if they don't.
Players Skip Olympic Golf
Zika became the perfect excuse for the professional golfers whose primary focus is on the majors and money. Despite medical experts insisting there was minimal risk and the games took place in Rio's winter months, many top players largely abandoned the event. If you believed this might impact your family, I respect your choice, but I think more took a pass to keep their patterns for performance. If golf gains a foothold in the Olympics, the Gold Medal will have the same career weight as a major championship.
David Eger believed it was the right call as the rule was written. Here's the problem. The players, the fans and the remainder of golf saw this as unfair. What made it worse was how it was handled.

When you throw in the issue of "their" set-up playing a critical role, it just points out the injustice of the ruling. They managed tarnish an excellent event. They were saved by Dustin's increasingly great play over Oakmont. But this one wouldn't end till they made changes to the rules.
End of great duel - courtesy of CBS New York
Stenson wins fantastic Duel at Troon
We were treated to Phil's lip out on Thursday in a quest for the first 62. What we didn't see coming was Stenson. He would shoot the lowest aggregate score ever in a major at 262, capped off by a final round 63. But it was do much fun was the play of both players in the final round. They hit so many great shots, made some incredible putts and showcased levels of class and character rarely seen in. Phil's 65 was spectacular, Stenson's 63 simply blew our minds. Our "Duel in the Sun".
Quick, who won? See it's the 4th major for a reason. But who won the Olympics … ah, you know that don't you. Can you tell me where they played? It was Jimmy Walker wire to wire at Baltusrol.
Olympic Golf – Part One
Despite all the doom and gloom predictions, the event not only went very well, but the golf was really good. Gil Hanse's course was beautiful, interesting and delivered lots of thrills coming home with a series of short finishing holes. Golf was even luckier to have two high profile champions in Imbee Park and Justin Rose. But funny enough the highlight for me was

Adilson da Silva hitting the first tee shot of the event. That moment felt special.
Bubba Watson of all people seemed to sum things up well, "All we do is read what's in the headlines, and the headlines always scare you." And yet in the end, the reaction from those who went was overwhelmingly positive as they became involved in much more than the golf. As one writer said afterwards, "Rio deserved a more than the hysteria that began the event."
Arnold Palmer at Weston - courtesy The National
RIP Arnold Palmer
He wasn't the best player, he wasn't perfect, but it didn't matter. He meant more to the golfing public than any other golfer before and after. He was relatable. He met everyone eye to eye, person to person, regardless of who they were. He had grace and presence that few in life have. I loved what Sam Saunders said in describing his famous grandfather "There wasn't a big difference between the man you saw on TV and the man we knew at home. We are all here for the same reason. We all loved Arnold Palmer."
World Golf Hall of Fame
Like Baseball, Golf is trying to figure out the new minimum numbers to meet who should go in and who should not. I trust those involved when it comes to players. Personally I don't think there should be numbers. I always believed "you know" and all that numbers do is be helpful when you're on the fence. I do think Stan Thompson makes the grade, but I expect that will take some time.
Ryder Cup – Part One
I'm born in England so I have always pulled for either GB&I or Team Europe. I hated the dominance of America in the past and Europe lately too. I prefer the event to be a toss-up from the outset. I found the fans a little much and that needs to be addressed. The play was exciting throughout and I think the conditions made everything on the greens makeable. The epic final matches of
Phil and Sergio
eclipsed what was going to be the best match I've ever watched between Rory and Patrick Reid. I enjoyed the American victory, it raised the stakes for next year.
Ryder Cup – Part Two
Rory McIIroy

said, "It should be the best 12 players from Europe versus the best 12 players from the US. For me, there shouldn't be anything to do with membership of tours. To have a guy like Paul Casey not on our team when he is playing some of the best golf in the world right now, it definitely hurt us [in Hazeltine]." The European Tour will need to tread carefully around this.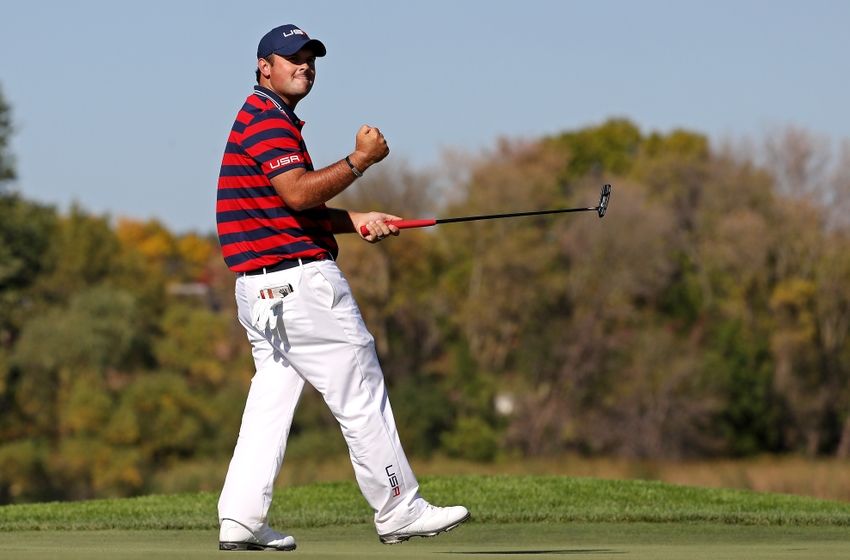 Partick Reid at Ryder Cup - courtesy of Fanside.com
Ryder Cup – Part Three
Darren Clarke's
picks of
Lee Westwood (0-2) who is a lousy putter under pressure and
Martin Kaymer (0-3) who was in poor form left questions about picking experience over hot players. Thomas Pieters went 3-1. I thought Love's best move was leaving multiple Ryder Cup veterans off the team.
Jay Monahan takes over PGA
Keith Pelley said

"Our job as the gatekeepers of the Tour is to provide bigger purses, greater experiences and greater courses so that the players want to play here – and play here more than they need to just to stay a member – and so be a Ryder Cup player,"
Will Jay change the focus of the American based
PGA Tour or will he expand more internationally and try to prevent the European Tour from gaining more leverage over player's participation. It will be interesting to see what changes will come.
PGA – Part One
When Pete Bevacqua said, "We are huge proponents of the Olympics. We are all about the Olympics, but we also have to protect the PGA Championship and we can't just bounce the PGA Championship around every four years," He also alluded to the idea of moving the PGA permanently to May! I believe this is partially their attempt to no longer be the 4th major, but I also agree that the cycle of events leading up to the PGA and Olympics hurt both immensely.
It's as good as a major - courtesy of Golflife
Olympic Golf – Part Two
Ewan Murray reported, "A source at the International Olympic Committee said it would be "very surprising" if golf is not afforded an extended run. The IOC meets early next year for a standard review and to announce what sports will feature in the 2024 Games."
Olympic Golf – Part Three
Olympic Course to Close?
Rex Hoggard reported, "We have been disheartened by the recent reports regarding the status of the Olympic Golf Course and can only hope that the [Confederation], Rio 2016 and the city of Rio can work together to find both a short-term and long-term solution." Sebastian Smith said
,
"A source close to the company who asked not to be identified said Progolf has been given no contract by the confederation and, having been forced to foot the $82,000 monthly maintenance operation out of its own pocket, is set to pull out."
Gil Hanse offered the perspective from working in Brazil, "We witnessed this type of brinksmanship during the construction of the course, and we are hopeful that this is another example of having to hit a low point before things get better."
Tiger's Back …
I had to share Alan Shipnuck's great paragraph, "He was dressed in a badass all-black ensemble, befitting the high noon tee time. The World Challenge is a mostly meaningless hit-and-giggle event, but the tee was crowded with reporters, cameramen and assorted rubberneckers. The most dominant golfer of all time does not have the luxury of easing back into competition. The mood was tense, even fraught. As Woods settled over the ball, waggling his discordant new TaylorMade driver, it was so funereal quiet you could hear decorative flags flapping in the distance."
As much as I don't pay any attention to him, he still moves the needle for so many others. I don't like or dislike him, I'd just rather see Spieth, Rory, Rose, etc. win at this point.
tomorrow - The Year in Golf Architecture