The Ball - Part 1 – Increase … What Increase?
In January they made a joint statement,
"Looking at all of the players who are ranked for distance on the PGA TOUR and PGA European Tour, the amount by which players are "long" or "short" has not changed – for instance, since 2003 the 10 shortest players in that group are about 6% shorter than average, while the 10 longest players in the group are about 7% longer than average. The statistics are not skewed toward either longer or shorter players.
Then James Hahn said what we all knew,
"Interesting. But does the study show what clubs were used off the tee? A drive off the tee could be with 3 wood or 2 iron."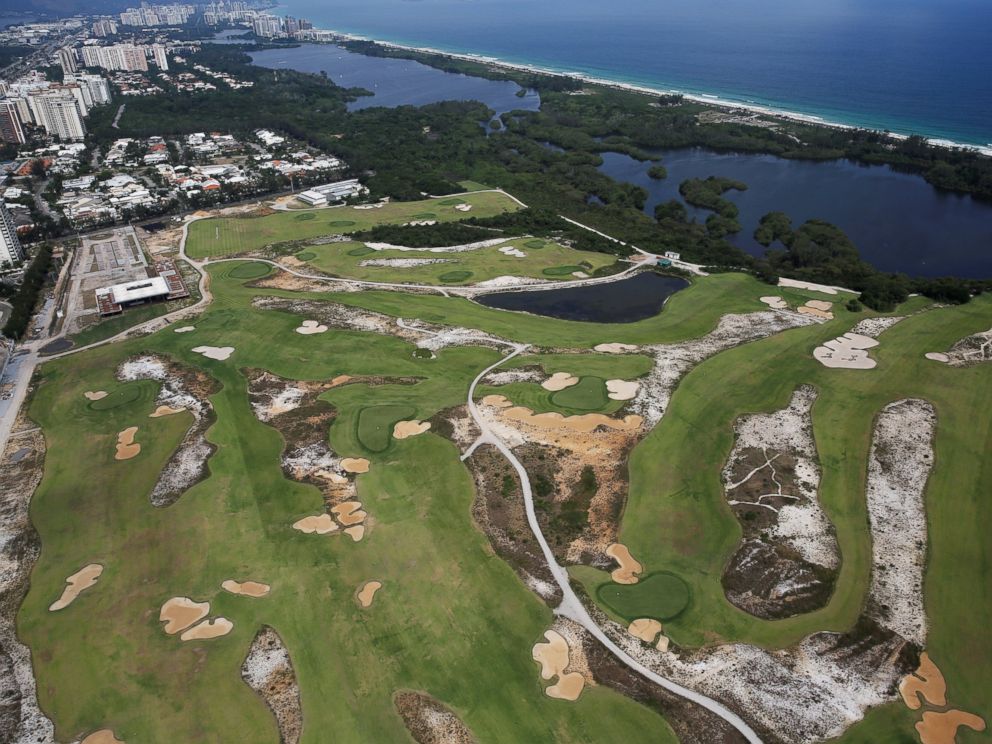 Why Bother with Facts or Understanding Your Subject
Reuters' Gabriela Milian wrote an article about Rio's
venues falling apart. She included the golf course using aerial images but failed to understand the use of native plant material and open expanses of sand as desirable and sustainable … the golf course is actually doing fine.
The Ball – Part Two – Captain's Speak Out
In Febuary Sir Michael Bonallack
made a statement,
"I am on Jack Nicklaus Captains Club. We meet at Muirfield Village every year. At one of those we had Jack, Arnold Palmer, Gary Player, Bill Campbell, myself, Charlie Mechem from the LPGA, all with huge experience in golf. Jack was talking about the ball. We all agreed it was out of control and going too far. It had to be pegged back. So a letter was composed and sent off to the R&A and the USGA, signed by all of us."
R&A Chief at

Martin Slumbers

said
"When you get to the professional level, there's no doubt in my mind that the professionals are role models, and they are fantastic role models for young people. They're healthy, they're fit, they're strong
and they've got unbelievable skill.

But part of that role model is pace of play, and there is no doubt that younger generations take a steer from them. So I think I would just encourage the Tour pros to realize that pace of play is part of them being that role model, and it's not helpful to growing the amateur game when the youngsters are slowing down."
My father always said your first responsibility is to play fast and if you can't play well play even faster…
Rules of Golf
New rules came out to deal with issues like putting with the flag in, but behind the scenes bigger ideas were considered like No more stroke and distance penalties. Golf is looking at ideas to speed up the game and make it more fun … about time?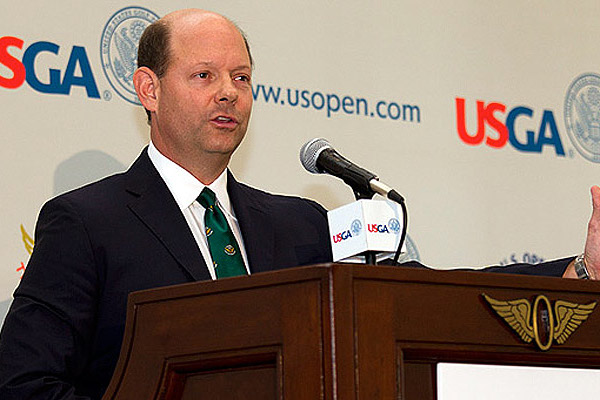 The Ball – Part Three - Variable Ball Debate
Mike Davis
' suggestion at the USGA's Innovation Symposium

in April was
"Anybody is hard-pressed to say that as distance has increased in the last 100 years that that's been good for the game. We all want to hit the ball farther. We get that. But distance is all relative. When you think about the billions and billions of dollars that have been spent to change golf courses, and you say, has that been good for the game?"
"Is the fact that Shinnecock Hills went from 5,500 yards to 7,500 yards, what has that done good for the game? It's increased the expenses to maintain it. It's cost us time to walk an extra 2,000 yards. So you have to say, What has that actually done?"
The answer … made the game increasingly more expensive
The Ball – Part Four – Pace of Play Issue?
In April Charl Schwartzel said a shorter ball will help address pace of play, "Now you have to walk 150 yards back and then walk this way, so you're walking 300 yards and you're still at the same place. If you can make the balls and clubs go shorter, and you can play the old courses, then the game will be 3 ½ hours again. It's simple. But you've got to walk so far, how are you going to play quick? It's impossible to play quick."
Graham McDowell added,
"Something's got to happen. We're starting to lose the integrity of some of the most beautiful courses in the world. They're becoming outdated, which is just a little scary, really."
I thought Equality Matters?
Alistair Tait's
of Golfweek tells us,
"There is no timetable for women to join the club."
He does on to say that in an official statement the club it says, "The current waiting list for membership at Muirfield suggests that new candidates for membership, women and men, can expect to wait two to three years, or longer, to become a member of the club."
I'm sorry but the R&A should have waited to announce their return to the Open Rota till after the first "few" woman were full members. Rather than optics, this for me is all about the principal of the policy.
Municipal Golf Matters – Sharp Park is Saved
Jaime Diaz
writes about the successful fight to save Sharp Park,
"
So when a muny, especially one with history in a big city, gets threatened, even the most escapist golfers can be roused. Instead of complaining about the greens and the drainage and range mats, they realize how much they'd miss the $30 green fee and all the camaraderie if it disappeared. They become attuned to how munys are about affordability and accessibility and diversity and being the best entry point for beginners and especially kids. Basically the spirit of St. Andrews. It's a good exercise, especially if it translates to the kind of activism a beset muny needs to stay alive."
Later on his says, "Munys are vulnerable targets. City coffers are still recovering from the Great Recession, making the upkeep of golf courses seem less viable, especially when rounds are down. But because the golf lovers who are defending the munys know that if one falls, it could start a domino effect, they are fighting back with every asset at their disposal."
Sergio wins the Masters
Doug Ferguson
said it so well,
"Eighteen years and 71 majors later, more tears for Sergio Garcia. This time, they were accompanied by a smile."
The response from the players spoke volumes about what they feel about Sergio and the pressure he felt throughout his career to live up to expectations.
Green Reading Books Part One – Rule Change Coming?
Comment from the governing bodies signals a potential change to come, "The R&A and the USGA believe that a player's ability to read greens is an essential part of the skill of putting. Rule 14-3 limits the use of equipment and devices that might assist a player in their play, based on the principle that golf is a challenging game in which success should depend on the judgement, skills and abilities of the player. We are concerned about the rapid development of increasingly detailed materials that players are using to help with reading greens during a round. We are reviewing the use of these materials to assess whether any actions need to be taken to protect this important part of the game. We expect to address this matter further in the coming months."
This statement went out in April, I'm beginning to wonder if they will do something.
"I think probably we should ban the book,"
Adam Scott said. "If they feel that reading the green needs to be more of an art and it's an advantage to a player who's a creative, great green reader, then I wouldn't have a problem with that."
When some players began trusting the book over their own eyes and the caddies opinion, it indicated this was another skill that was being removed from the game.
Cost of Hosting and Event
Adam Schupak
wrote a piece for Links Magazine that was eye-opening for me, "
The starting price can be as modest as roughly $150,000 for the U.S. Women's Mid-Amateur, balloons to $750,000 for the Walker Cup, and gets close to $1 million for the U.S. Amateur when a larger footprint for worldwide media and television compounds is factored in. To raise the money, host facilities often are forced to get creative, ranging from throwing golf outings to finding local sponsors. It took approximately 50 well-heeled members at Country Club of Birmingham in Alabama—a century-old, 36-hole private facility that had slipped out of golf's Top 100 lists—to bankroll the $300,000 budget for the 2013 U.S. Mid-Amateur Championship."
Wait, what … if it's costing the club money, why the hell would you ever host? Between the changes that get made for these events and the interruptions for membership play, why on earth would any club host anything anymore.
Should Erin Hill Get the Open Back?
Golf World's Jaime Diaz.
"
Erin Hills, with sheer bigness that requires less retrofitting for distance than older courses, and a brawn accented by humpy land and jagged bunkers that can make for exciting golf, offers a welcome but only occasional – maybe once every 20 years - change of pace from the traditional Golden Age classics."
I think that argues for either Erin Hills or Chambers Bay once every 20 years.
Jack Nicklaus wasn't convinced,
"I'm not sure that I thought that was what a U.S. Open should look like, but I'm not used to seeing no rough around the green or wide fairways with extreme rough if you hit a real bad tee shot. And I'm not sure that I thought that was what a U.S. Open should look like, I don't want to be an old fogey about it and say that everything that we did was the right way. There's other ways to do it and they did it a different way and I think they had a great tournament."
Daily Mail correspondent
Derek Lawrenson
gave Worst Tournament to the

U.S. Open

at

Erin Hills

,
"Just when you think they can't possibly cock it up for a third year running, the United States Golf Association managed to debase yet another US Open. A shocking, soulless venue in the middle of nowhere and scoring so low the tournament's raison d'etre as the hardest major was lost completely. I recently had to fill in a survey from the USGA asking what I thought of them. It's fair to say they didn't score well."
I personally don't think it should go back to either Erin Hills or Chambers Bay. I don't care about the PGA sites, but the Open sites should be historical sites of other Opens. It adds to the magic of the week.
The Ball – Part Five
–
Split the Rules?
R&A Chief Executive Martin Slumbers
"When we look at all the options we've got, it [bifurcation] will have to be one of the options we look at," Slumbers said. "Whether that's the right thing to do, who knows the answer? Up to date, we have had a view of one set of playing rules, one set of equipment rules, and I think that served our game extremely well, but we must make sure we get the skill and technology right, as a balance for the good of the overall game.
Hole of the Year End – A Great Bogie
Geoff Shackelford

of Golfweek writes,
"Spieth knew by going backwards he'd be able to get Temporary Movable Obstruction relief from the trucks and onto a beautiful tight fescue turf lie.
With the option now clear, the mob scene moved to the range, with cameramen shifting behind Spieth like a swarm of blackbirds tracing him as he looked at options with the walking referee. Eventually the back-nine roving official, John Paramor, arrived and signed off on an unplayable lie drop between the Callaway and TaylorMade trucks."
"As he walked off the back of the putting surface, Spieth ever-so-briefly flashed Greller a mischievous grin while handing him his trusty Scotty Cameron. He knew he'd just made an epic bogey."
"Given that he went on to win the British Open, it might have been the greatest bogey in major championship history."
The Ratings are Down
Geoff Ogilvy said, "TV ratings are really not a measure of whether golf is popular."
Yes and no. Participation numbers suggest that golf's is stagnant at best and well down from the year 2000. TV ratings make it clear that fewer people are watching professional golf. I hate to say it, but it's more than Tiger … or is it?
Greg Norman Changes Golf
After weeks of build-up Greg Norman creates an on-line experience for golfing millennials. Or they can just use their phone like they do now …
In my mind he's crossed the point from being a clever businessman and "jumped the shark" … come on, that was funny!
Green Reading Books Part One – The Caddies Speak Out
Caddie
Stevie Williams
speaks out,
"There's no doubt that a lot of the information that's getting provided now is taking a lot of the skill and the art and the natural gift [out] of playing the game."

"I'm totally against greens reading books. I think it's a skill of the game not to have a book provided that absolutely gives you a detailed description of the green and if you read the book accurately, you know exactly how far your putt's going to break."
Longtime Caddy John Paramor says,
"But I have to say I think they are a de-skilling of the game. Part of this game is making your own judgement about how your ball is going to roll across a green. It's not for you to find that out on a piece of paper."
The Ball – Part Six –

Debate Heats Up
He's back …Tiger Woods not only returns to active play, but also speaks out on the ball, "The only thing I would say is that we need to do something about the golf ball. I just think it's going too far because we're having to build golf courses…if you want to have a championship venue, they've got to be 73, 7400 yards long and if the game keeps progressing the way it is with technology, I think that the 8,000 yard golf course is not too far away. And that's pretty scary. We don't have enough property to be designing these types of golf courses. And it just makes it so much more complicated."
Bridgestone CEO Angel Ilagan
said the time has come.
"As it relates to the Tour...there needs to be something to standardize [the ball] because the guys are hitting it way too long."
USGA's Mike Davis
weighs in,
"I don't care how far Tiger Woods hits it. The reality is this is affecting all golfers and affecting them in a bad way. All it's doing is increasing the cost of the game."
The retiring head of Acushnet
Wally Uihlein
weighs in,
"Is there any evidence to support this canard…the trickle down cost argument?" Where is the evidence to support the argument that golf course operating costs nationwide are being escalated due to advances in equipment technology?"
Tiger Woods is Back!
It began with an engaging press conference where Tiger once again reiterated his view on shortening the ball, "Hey, I am one of the guys that if they did roll the ball back, it would help me out a little bit. I would have an advantage. Any long guy who hits the ball long and high would have more of an advantage because now we're having to hit longer irons in the greens, other guys are having to hit hybrids and woods, so you have an advantage."
The buzz of having Tiger back playing was enormous that week. The unusually high interest in a nothing tournament was stunning. And then on Friday we saw that ever familiar name climb to the top of the leader board … and the excitement was off the charts.
Rex Hoggard
said, "

For four days, Woods drove the ball as well as he has in a decade, putted better than his final statistics might suggest and largely controlled his golf ball with the notable exception of his opening loop on Saturday."
Michael Bamberger,
senior writer, Sports Illustrated chipped in, "He's been through a personal hell, major surgery, the chip yips and a bunch of other things. He played well and carried himself well and talked like a person who knows there's a mountain in front of him and he's just starting the climb. It was impressive.
Saturday was a reminder that there's a long road ahead."
The last word on this year goes to Tennis legend Rafa Nadal
who walked the course watching Woods,

"I think this is a very important moment now for golf and himself and for all the people who love the sport in general. He's the most charismatic star golf has had in the past 50 years or so. For everyone to see him back is something great for the sport."