I usually make at least one trip to go and see new courses. This was a pretty good year because I began with a trip to both Ireland and Northern Ireland.
Rounds Played: 61

(most since 1985)
Rounds in Ireland: 12
Lowest Round: 83 multiple times including an interview round!
Lowest To Par: +11 (84) at Streamsong Black

on first play
Low Nine: 38 (+2)
Strangest Nine: 7 pars, a bogie and a 10 with 7 putts …
Handicap: Dropped 3
Lessons Taken: 2

(putting and chipping)
Tournaments Won: 1 (Caveman Cup)
Tornaments Won
– Caveman Cup
My most famous/infamous story was choking with a four shot lead with four to go in the Junior club championship at 17. Well my partner Ben Hillard and I posted a combined 51 in the opening round in the Stableford and then topped that off with 46 to shoot 97 over two days. We won by four on a birdie at the end where I went for the 18th in two and two putted for a final birdie.
Favourite Course
– Royal County Down
I made the comment after the second round of the day I think this is the best course in the World. The opening nine is easily the best in golf and only the 6th would be considered anything "close" to average. The 3rd and 9th make most lists of the best 18 holes in Golf. I find the course continues the momentum right through to the 16th. I happen to really like the 16th, but others are not as convinced. The 17th and 18th have always been the biggest question marks, but it's only because they show up at the end that anyone questions the legitimacy of this being best course in the world. Well, for me, it is. Play it 10 to 18 once and there's no question after.
aerial of course - Getty Images
I had the chance to return to Seminole in the spring. It remains an architectural masterpiece. The routing is flawless continually working to and from the main ridges in a way which reduces the impact of the flat central section of the course. There are so many exceptional moments that it's the one where I will always say it's not the club, it's the course that makes it at comfortable a Top 100. Much, much better than anything at Streamsong or Sand Valley.
Best New Course – Streamsong Black
Is the best of the three? Potentially, but I still think I would pick the Red by a slim margin. The Red has higher highs, but contains a few moments that I'm not enamoured with including the overuse – yes I think you can – of half par holes. Black is more consistent and has better greens than the other two and the ground is more in play which I appreciated a great deal. I think Gil was given a high bar and exceeded on a site that was not near as good as the other two.
Biggest Surprise –
Kirtland CC
The front nine of this Colt and Alison is a treat, with some expansive and impressive architectural work at the greens, but the back has a reasonable argument for being among the best two or three in the game. It has everything from elevation change, to river crossings to sublime architectural ideas that punctuate with ramble up into the final bowl and out along the top of the valley coming hole. Just wow.
Played all of Ballyliffen and Rossapenna along with a host of courses in Norther Ireland, but the real gem and the one I kept thinking about was Portsalon. The 2nd is an epic four among the greats in the game. There's a whole host of excellent holes that play through the dunes or ramble across the undulating upper portion of the property. This is one not to miss.
Hidden Gem –
Lawsonia Links
I would rather play Lawsonia that Sand Valley or Mammoth Dunes. The scale is epic, but so are the features and that is why architecturally this course is a masterpiece. It's a lesson in scale and consequence justifying width and space. The beginning of the back nine stands with anything – and I mean anything – in golf design.
Favourite Canadian Round
- Laval-sur-le-lac (Green)
I was very pleased to how much the changes impacted the play of the course. There were odds and ends that needed to be fixed, but by-in-large the course had finally come together as I always had envisioned it should be presented. Now we just need to get the rest of the trees down …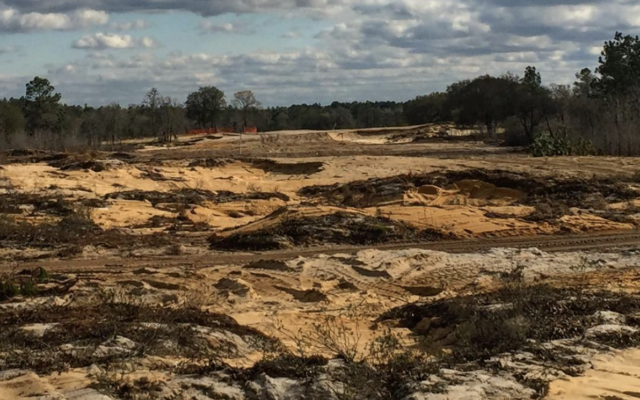 I spent just a week and because of the extremely cold snap, did not have to dodge snakes and spiders. I ran a skid steer and spent my time reclaiming native grasses and transferring them into bunkers for the shapers to put their final touches on. It was a fun week to see what the work after Streamsong Black would look and feel like. 4th, 5th and 6th were my favourite stretch.

This is Gil's chance to work with a much better sandy site.
Did I Just Walk the 3rd Course at Sand Valley Resort?
I joined Tom Doak for a couple of days walking the South-west quarter of

Sand Valley. It was interesting to see where he choose to go and the reasoning for some of his choices. The second day featured a walk with Mike Keiser and his family. I enjoyed the experience and thank Tom for including me in the walks and discussion with Brian Schneider. I can't share the plan or pictures from the day ... but ...
Here is my alternative plan:
Spring – Houston ASGCA Meeting
I'm not really that interested in where we are playing. I have played Champions, but it was pretty average golf with an incredible club atmosphere. But I have arranged a small group of eight to go up and see Bluejack National. I walked it last time out and loved it. It will be fun to play there.
Spring – West Coast of England?
Robert and I have discussed "one more" – every trip is sold to our wives this way – trip to see what we haven't seen. Lytham, Liverpool, Ganton and Woodhall Spa are on the must-see list. This one is likely, but not set.
The only Top 50 I have not seen in person. I always mention Sand Hills every year … I really need to go … I really want to go …
Caveman Cup in Georgia at Ohoopee
We play this event in early November, which will make a nice finish to my 2018, since most construction projects end exactly at that point.
And after all, Ben and I are defending champions!