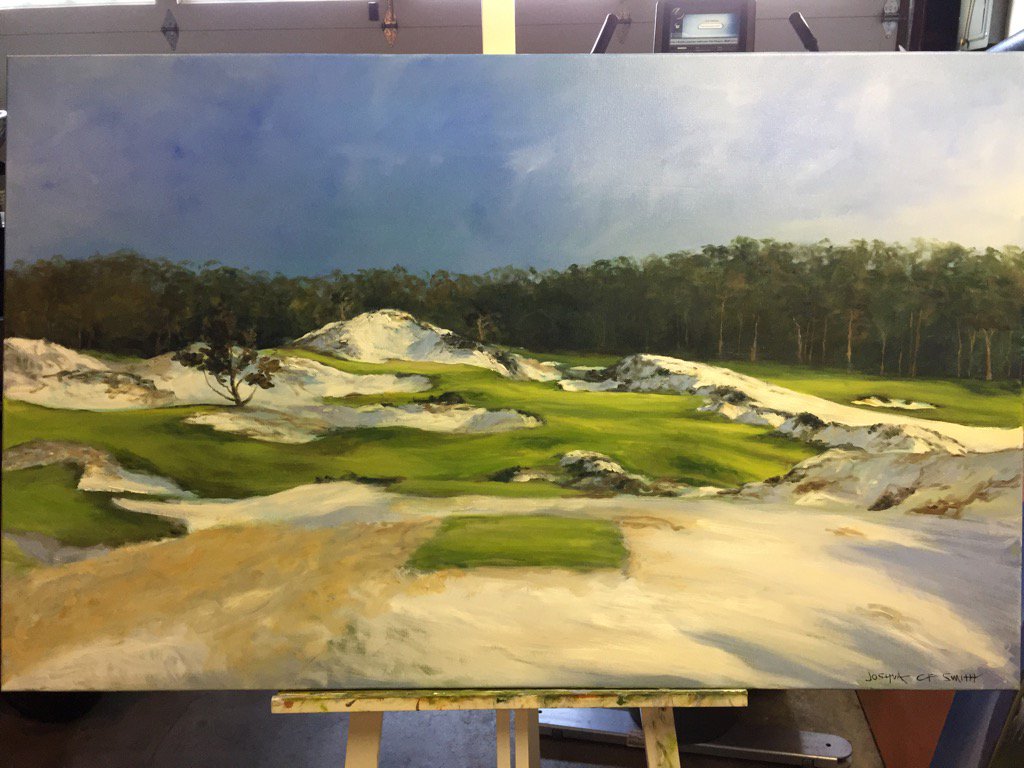 see at: Joshua C.F. Smith‏

@joshuacfsmith
Best of Twitter
Images
: Cavalier Golf Photos @LinksGem
Great images and insight into golf architecture
Full of surprises, great rich walk through the game and the greatest architecture in its formative years.
G
o see August 13th where he posts, "Just finished my career grand slam seconds … "I'll rise up" and then proceeds to sing along with the hit song.
https://twitter.com/twitter/statuses/896910397306830848
Golf Channel
analyst

Brandel Chamblee

says
"He blocks around ten people a day on Twitter and feels
that it is interfering with the "civility" of golf."
This included Jason Duffner who told the talking head to "Shut the "F" up" when he made comments about his swing coach.
I don't follow any of the players except a friend or two. And I certainly try to avoid golf's creepy old man Greg Norman – seriously
put a shirt on #WTF – but his wackiest moments are always shared for all to just shake their head.
Tweets: 2848
Following: 189
Followers: 2,290
Blocked: None
Best tweet:
Favourite Ride at Disney. The adults only bar. Short line. No motion. Given a beer at the end.
Cancel Saving... Save changes
Golfweek Architecture Summit
The first panel featured Gil Hanse, Tom Doak, Kyle Phillips and David Kidd. This was fun because of the interplay. David is all in on the idea of making the game easy … I'm not … I think it may bring popularity to his courses, but that will also hold them back from reaching the heights of his peers. I still really like the middle of Bandon Dunes, never sure why he abandoned this tact… Davis was the most fun and most interesting of the four. Discussions were great … even better over beers together at the bar later that night.
May part featured myself, Andrew Green and Matt Dusenberry. I presented a Cape Breton Highlands (a pure restoration), Andrew talked about Inverness (a hybrid of restoration and entirely new holes) and Matt talked about an Emmet renovation (with no information) based entirely upon the greatest hits of Emmet. It was good, they were both long and we had little time for a good Q&A after (which IMHO would have been more interesting than the case studies).
A frank conversation about the placement, construction and maintenance of golf course bunkers. Includes the commentary on why they are architecturally less relevant than in the past.
Stanley Thompson Society YouTube Channel – May 2017
A summary of my research on Capilano and proof the Hansen was wrong. Robert Trent Jones did not lay out Capilano.
This 30 second clip was posted on Golf News Net – April 2017
I'm going to pitch my own book in this case. I plan to finish my book on the Five Great Commissions of Stanley Thompson. My goal is to finish the writing this winter and publish into the Spring Golf Season. Details will about how to get your own copy will come in the Spring. Work and work on the house have severely hampered any progress. I may not meet my own deadlines …
Golf Architecture – Coming December 2017
This will come out in the next month's magazine. It talks about the history of restoration, the move to hybrids of restoration and renovation and finally why the movement is inevitably beginning to wane in North America.
There is nothing more compelling than taking a risk, where anything but you best may be disastrous. But the reward is too great to resist.
Score Magazine – July 2017
A discussion about renovating iconic courses and the results at Royal Portrush.
The entire history from conception to completion. Shares everything from the multiple plans through to the horrible history of expropriation.
Sean Dudley - Golf Architecture - November 2017
Transforming the third nine at Oakdale from a bad Pete Dye like nine through to a cohesive Stanley Thompson inspired nine. It's all about balancing play and feeling like Thompson built all 27 holes.
Guy Cipriano - Golf Course Industry - November 2017
The best insight anywhere on how architects research history and make their decisions on what to do. Knollwood CC provides the background to an interesting process.
American Golfer – September 2017
Michael Dougherty, USA Today
Another look into the process at Knollwood CC, but in this case its more about the club's process and journey
A great discussion featuring myself and Todd Quintino discussing whether we need so many bunkers and are they as relevant to what we do.
Adam Lawrence
- Golf Architecture - January 2017
A nice overview of the process and what was done in the restoration at Knollwood CC